A Message from Council Vice President Andrea Jenkins
Dear Neighbors,
I hope this newsletter finds you and your loved ones healthy and safe. The City of Minneapolis has currently recorded 2,339 positive cases of COVID-19 and has seen 108 related deaths. My condolences go out to all of those families, friends and loved ones.
On Thursday May 21st Mayor Frey issued the 12th Emergency Regulation since the onset of the pandemic requiring Minneapolitans and visitors to wear masks or facial coverings in indoor public spaces. These can be simple cloth masks as long as they cover your mouth and nose, the city is working to provide masks to low income communities, residents in high density residential settings and congregate living facilities. Additionally, we are kicking off the #MaskUpMPLS campaign to promote awareness and encourage donations of handmade masks to distribute throughout the community. More details regarding this are below in the newsletter.
My team along with community members and neighborhood organizations continue to work on planning events that build on the work that we've been doing throughout the term, including the 38th St. Thrive Small Area Plan, the Building Bridges, Breaking Bread event, which we will do again this year, but likely in a virtual format. We are also developing a summer safety plan to address some of the community safety concerns along the 38th street corridor.
As a member of the City leadership team and the Policy Group that has been formulated in response to COVID-19, I have been involved in the discussions to amend the 2020 Budget to address the significant loss of revenue which is estimated to be in the area of $165 million dollars. My commitment is to center equity in these conversations and to work to maintain the level of services and attention to our core city services to ensure that Minneapolis remains a city that we can all be proud of. That said every level of government will be faced with some very difficult decisions in the coming days and weeks. I for one commit to remain relentlessly optimistic about the future, I know that this community has and will continue to rise to these challenges with generosity and grace.
Lastly, I want to offer my Congratulations to all of the 2020 Graduates, be it Kindergarten, Middle School, High School or college. We are very proud of your accomplishments and though we can't celebrate you in all the traditional ways with Pomp and Circumstance know that your hard work does not go unnoticed or unappreciated.
Stay well friends, look out for your elderly and vulnerable neighbors and support local restaurants and businesses when you can.
Happy Memorial Day!
If you live or work along the E 38th Street Corridor, you may be familiar with or have heard about the 38th St. Thrive! project from your neighbors, friends, or colleagues that my office has been working on since the beginning of 2019. For over a year now the Ward 8 office, with support from the City's Community Planning and Economic Development (CPED) department and with the incredible dedication of community leaders from our neighborhood organizations, cultural centers, community organizations, and businesses, have worked to co-create a comprehensive strategic planning document that centers the community's vision for the future of the 38th Street Corridor and our shared community.
Council Vice President Andrea Jenkins and the 38th St. Thrive! planning committee would like to provide an additional opportunity for you to engage with this project in its entirety. At this virtual community event, you will be presented a detailed overview of the plan and asked to share your feedback. We hope that you can participate with us!
When: Thursday, June 4th from 4:30 pm to 6 pm
How to participate: Join this virtual event on Thursday, June 4th at 4:30 pm via Skype using the instruction below:
Trouble Joining? Try Skype Web App
Join by Phone: +1 612-276-6670, meeting passcode: 651983355# (Dial-in Number)
Facebook event link: https://www.facebook.com/events/286651322731432/
At the virtual community meeting you can expect to:
learn about the origin of the 38th St. Thrive! project and understand the community engagement process.
review a condensed presentation of the strategic development plan, you can read the full draft plan here: https://drive.google.com/open?id=1qs3AQhkcCu7sMZXhIw71s7TRkxM8BnWQ.
provide input and feedback on the strategic development plan.
Background on the 38th St. Thrive Project
In 2015, the community held a series of meetings titled "The Future of East 38th Street," hosted by then Ward 8 Council Member Elizabeth Glidden. Those meetings led to the generation of several ideas, priorities and recommendations from community members.
In February 2019, Ward 8 Council VP Andrea Jenkins reconvened community members to co-create a strategic development plan by the residents, business owners, and neighborhood organizations in the E 38th Street community, in collaboration with the City of Minneapolis' Department of Community Planning and Economic Development.
In March 2019, a smaller planning committee was formed with community members who expressed interest in driving the planning process from the initial February event, to conduct community engagement and to draft a proposed plan together to share with the larger community.
This planning committee met five times to craft the district's vision, assets, and strategies based on priorities identified by the broader 38th Street community and a draft plan has been developed to share with you all.
Mayor Frey issues policy requiring face coverings for indoor public locations
Minneapolis Mayor Jacob Frey signed Emergency Regulation 2020-12 requiring people in Minneapolis to wear cloth face masks or coverings when they are in an indoor place of public accommodation including grocery stores, recreation centers, hotels, retail businesses, the skyway system and government buildings. The emergency regulation will take effect Tuesday, May 26.
In the lead up to the May 26 effective date, Frey is encouraging Minneapolis businesses and residents to help boost public awareness by participating in the City's social media campaign #MaskUpMPLS.
Medical research has indicated that COVID-19 may have a high rate of transmission through respiratory droplets, particularly while indoors, and that wearing a mask can help reduce the risk of community spread. Research has also shown that people who are asymptomatic or yet to show signs of the virus can still transmit it without knowing they have contracted it.
Businesses will not be required to provide masks to customers or employees themselves, though employers shall be required to mandate the use of masks by their staff. The city will be launching a Memorial Day mask drive in the coming days to help get masks to those who need them before the regulation takes effect.
Non-compliance should be reported through 311.
You can download and share this graphic in both in English and Spanish.
Any Minnesotan who wants to be tested for COVID-19 is encouraged to get tested this weekend. There is no charge for the testing and you will not be asked for insurance cards or ID. Everyone will be required to social distance and wear a mask at the testing locations.
When: Saturday, May 23 – Monday, May 25
Time: 10 A.M. – 5 P.M. daily or until supplies are exhausted
NO Appointment Needed
Testing Locations:
East St Paul – 1530 Maryland Ave E, St Paul, MN 55106
Minneapolis Armory –  1025 Broadway St. NE, Minneapolis, Minnesota 55413.
Moorhead Armory – 1002 15th Ave N, Moorhead, MN 56560
Duluth Armory – 4015 Airpark Blvd, Duluth, MN 55811
Faribault Armory – 3000 W Airport Rd, Faribault, MN 55021
St. James Armory- 521 Armstrong Blvd N, St James, MN 56081
The sites are hosted by the Minnesota Department of Health, Minnesota National Guard, the State Emergency Operations Center, and the Community Resiliency and Recovery Work Group.
Pruebas gratuitas para COVID-19 este fin de semana
Cualquier persona en Minnesota que quiera hacerse una prueba para COVID-19 puede conseguirla este fin de semana. No se cobra por la prueba y no se le pedirá información acerca de seguro médico o documento de identidad. Se le requerirá a toda persona mantener el distanciamiento social y usar tapabocas en el lugar de las pruebas.
Cuando: Sábado, 23 de mayo – lunes, 25 de mayo
Horario: 10 A.M. – 5 P.M., todos los días o hasta agotar los materiales.
NO se requiere una cita previa
Lugares de prueba:
East St Paul – 1530 Maryland Ave E, St Paul, MN 55106
Minneapolis Armory –  1025 Broadway St. NE, Minneapolis, Minnesota 55413.
Moorhead Armory – 1002 15th Ave N, Moorhead, MN 56560
Duluth Armory – 4015 Airpark Blvd, Duluth, MN 55811
Faribault Armory – 3000 W Airport Rd, Faribault, MN 55021
St. James Armory – 521 Armstrong Blvd N, St James, MN 56081
Los lugares para la prueba funcionan bajo el auspicio de los siguientes organismos: Departamento de Salud de Minnesota, Guardia Nacional de Minnesota, Centro de Operaciones Estatales para Emergencias, y el Grupo de Trabajo Resiliencia y Recuperación de la Comunidad.
Donate homemade face masks on Memorial Day
Minneapolis residents can deliver homemade masks to their local fire station from 10 a.m. to 2 p.m. Memorial Day, Monday, May 25.
Remember to stay 6 feet away from others when dropping off your donation. Note: fire stations are not equipped to take any other donations at this time.
The City plans to distribute the donated masks throughout Minneapolis to residents, organizations and businesses that are most in need including food shelves, congregate living facilities, small corner stores and shelters.
Find face mask design patterns and instructions online.
Build a mask that tightly encloses the area around the nose and mouth from the bridge of the nose down to the chin, and extending onto the cheek beyond the corners of the mouth, so no gaps occur when talking or moving. Use an accordion fold to mimic a hospital mask as much as possible.
Use mask material that is tightly woven but breathable. Double layer the fabric if possible. Masks must be made from washable material such as fabric. Choose a fabric that can handle high temperatures and bleach without shrinking or otherwise deforming.
The mask should tolerate moisture from breathing.
Suggested materials:

Outer layer: tea cloth.
Inner layer: microfleece to wick away moisture.
Use a fat woven shoelace-type material to bind the sides (such as quilt binding).
For straps, use elastic straps that loop behind the ears.
The Centers for Disease Control and Prevention recommends wearing cloth face coverings to help protect others from COVID-19. Cloth face masks can help prevent the wearer from infecting others – especially in situations where they can spread the virus without having any symptoms.
Sign up online to vote early by mail this election year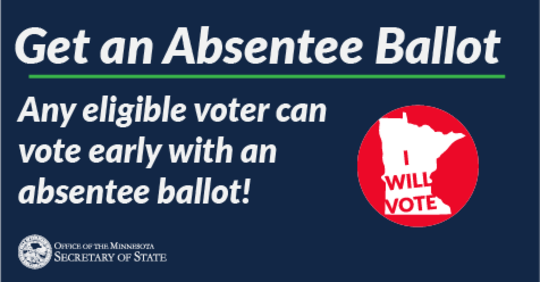 With health officials advising everyone to reduce contact to keep each other safe during the pandemic, the City of Minneapolis is recommending voting early by mail this election year. Voters can sign up now to get ballots for the August primary and November general election mailed to them. Ballots will arrive approximately six weeks before those elections, along with postage-paid envelopes for return.
All Minnesota voters are eligible to vote early by mail. Ballot applications should be made no later than 10 days before an election so the ballots can arrive in the mail with enough time for voters to return them.
Although voting early by mail is recommended, voters will still be able to cast their ballots in person at the City's Early Vote Center, 980 E. Hennepin Ave., or at their polling places on the day of the election.
Making voting safe during the pandemic
The City of Minneapolis is working closely with the Minnesota Department of Health and Hennepin County to be prepared and respond to the COVID-19 pandemic. The Centers for Disease Control and Prevention (CDC) is encouraging voting early by mail, and Minneapolis Elections & Voter Services supports this and other CDC and Minnesota Department of Health recommendations to make sure every voter in Minneapolis can safely cast their ballots this election year.
Video
Watch this video about voting by mail.
Sign up to vote by mail at vote.minneapolismn.gov.
35W@94 Downtown to Crosstown Construction Updates
Rescheduled: Midtown Greenway closure May 22 and May 26
Because of the weather, the Midtown Greenway closure has been rescheduled. The Midtown Greenway will be closed from 6 a.m. to 5 p.m. tomorrow, May 22 and on Tue, May 26. The detour routes include:
Westbound bicyclists: Northbound 5th Ave. to westbound 26th St. to southbound Blaisdell Ave. to eastbound 29th St.
Eastbound bicyclists: Northbound Nicollet Ave. to eastbound 28th St. to southbound 5th Ave.
Pedestrians: Nicollet Ave., 28th St. and 5th Ave.
Rescheduled: Lake Street closure May 26
The bridge deck pour of the new northbound I-35W bridge over Lake St. has been rescheduled. On Tue, May 26, Lake St. will be closed from 5 a.m. to 5 p.m. between Stevens Ave. and 2nd Ave. Motorists will be detoured to 31st St. During this time, 2nd Ave. will also be closed between 31st St. and Lake St.
Reminder: Lake Street closed May 26 through early July
Because of the City of Minneapolis' purchase of the Kmart property, some additional utility work is needed on Lake St. Beginning Tue, May 26, Lake St. will be closed between Blaisdell Ave. and 1st Ave. through early July. The detour routes include:
Eastbound detour: Southbound Blaisdell Ave. to eastbound 31st St. to northbound Park Ave.
Westbound detour: Southbound Portland Ave. to westbound 31st St. to northbound Lyndale Ave.
Pedestrian detour: Blaisdell Ave., 31st St. and 1st Ave.
Lake St. will remain open to 1st Ave. for westbound traffic, and all business access will be maintained.
All closures are weather permitting and subject to change.
Please drive with care in the work zone:
Slow down when approaching every work zone, then navigate through with care and caution
Stay alert; work zones constantly change
Watch for workers and slow moving equipment
Obey posted speed limits. Fine for a violation in a work zone is $300.
Minimize distractions behind the wheel
Be patient; expect delays, especially during peak travel times
Stay connected
For real-time travel information anywhere in Minnesota visit 511mn.org or dial 5-1-1.
Learn about the City's new renter protection rules
The City of Minneapolis passed new renter protection rules that go into effect soon. Starting June 1, there will be caps on security deposits and limits on what a rental property owner can use to deny rental applications.
Inclusive screening criteria will set limits on what information in a renter's criminal, rental and credit history can be used to deny a rental application. Landlords who don't use the inclusive screening criteria will have to specifically state why an application is denied and provide an opportunity for the applicant to add more context to their history.
Security deposits will be capped at one month's rent, or one-half month's rent if the landlord requires first and last month's rent to be paid in advance. If they require the first and last month's rent to be paid along with the security deposit, renters must have the option to pay the security deposit in installments over three months.
The ordinance goes into effect June 1 for owners with more than 15 rental units. The effective date for property owners with 15 rental units or fewer is Dec. 1. Enforcement will be through the City's housing maintenance code.
This follows previous renter protection efforts adopted recently, including relocation assistance for displaced renters and a requirement that owners of naturally occurring affordable housing rental property give the City 60 days' notice before selling their units.
To learn more, visit minneapolismn.gov/renterprotections.
Census results affect federal funding for mental health care
Data from the census is used to not only determine political representation and redistricting for states, but it is also used by local governments to determine federal funding for many services and programs, including mental health care.
Mental health issues are common and affect tens of millions of Americans, but only half of individuals with mental illnesses receive adequate treatment. Without accurate census data, the funding that communities receive for necessary mental health programs may not represent the population that relies on such services. Completing the census allows communities to receive the funding that truly reflects their needs.
Don't hesitate, complete the census now: my2020census.gov.
Neighborhood organizations respond to COVID-19
The City's Neighborhood and Community Relations (NCR) Department has collaborated with several neighborhood organizations to launch the Neighborhoods Respond to COVID-19 Fund (NRC-19) to provide a meaningful and efficient way for neighborhood groups to assist with the City's COVID-19 response.
The fund has paid for 2,500 face masks and 4,800 bottles of hand sanitizer (more than 3 million doses of hand sanitizer) for the city's most vulnerable residents.
Connecting resources with need
The City's Health Department has established an online portal to connect resources with community organizations and individuals in need of resources (not personal protective equipment) during the pandemic. Requests that cannot be covered with City funding but can be covered by Neighborhood Revitalization Program dollars will be considered for the fund.
The neighborhoods contributing to the fund so far include West Calhoun Neighborhood Association with $25,000; Jordan Area Community Council with $3,500; ECCO with $3,000; and the Cleveland neighborhood with $1,000.
Photo: Members of the West Calhoun Neighborhood Association join NCR director David Rubedor (right) in preparing facemasks and hand sanitizer for residents.
MnDOT to host two virtual events on the Public History of 35W
Take part in MnDOT's upcoming virtual events with the Hennepin History Museum and the Heritage Studies and Public History Program at the University of Minnesota. These events will give you the opportunity to connect with public historians, the project team, and learn more about the history of I-35W. Join through a device or call-in by phone to participate in the events.
Wednesday, May 27, 2020 Virtual Art Workshop
This virtual program will invite participants to develop a creative response to a presentation on the history of 35W in South Minneapolis. No prior artistic experience is required and all skill levels are welcome. This artistic response is simply meant to be fun and encourage a creative way of looking at the freeway and its history.
A piece of paper and a writing utensil are suggested for this event. Markers, crayons, and your other favorite art tools are also beneficial. All are welcome at this workshop and students (middle-school or older) are encouraged to participate!
Link to Virtual Event: https://bit.ly/35WVirtualArtWorkshop
Call-in Option: +1-408-418-9388,,*01*963703595##*01*
Access Code: 963 703 595
Thursday, May 28, 2020 Virtual Story Share
This interactive virtual event will share preliminary histories about opposition to the freeway, its impacts on communities of color, and concerns over equity and environmental justice. Participants will have an opportunity to ask questions and express interest in sharing their own perspectives and stories.
Link to Virtual Event: https://bit.ly/35WVirtualStoryShare
Call-in: +1-408-418-9388,,*01*965154459##*01*
Access Code: 965 154 459
These events are part of an ongoing partnership with Hennepin History Museum, the Heritage Studies and Public History Program at the University of Minnesota, and Minnesota Department of Transportation.
How to help animals while the Minneapolis Animal Care & Control shelter is closed
Minneapolis Animal Care & Control needs your help so it can prioritize its work for animals requiring immediate attention. The shelter is currently closed to the public during our COVID-19 response, but staff are still caring for animals.
Follow guidelines if you find stray or lost animals
Please review our guidelines on what to do if you find a stray animal before calling 311. Often the best thing to do for kittens or cats in your neighborhood is to leave them alone. And most lost dogs are found very close to their home, so walking around your neighborhood or posting on neighborhood social media sites frequently results in faster reunions.
Make a preparedness plan for your pet
It's important to have a plan for your pets if you're unable to care for them. Minneapolis Animal Care & Control has helpful tips on how to include your pets in preparedness planning for pandemics, severe weather and other emergencies.
Adopt a pet from a rescue partner
Rescue partners play an important role in placing healthy and treatable animals. Each year, Minneapolis Animal Care & Control places hundreds of animals with rescue partners. While there aren't adoptable animals in our shelter right now, check out our rescue partners if you're ready to adopt.
Contact Animal Care & Control
Animal Care & Control is closed to the public until further notice because of the COVID-19 pandemic. Our officers will continue to respond to emergency calls when the lives or safety of people or animals are in imminent danger. Please call 311 or 612-673-6222 with questions or 911 in an emergency.
Central • Bryant • Bancroft • Field • Regina • Northrop • Lyndale • Kingfield
Andrea Jenkins, 350 S. Fifth St., City Hall Room 307, Minneapolis, MN 55415
For reasonable accommodations or alternative formats please call 311 at 612-673-3000.
People who are deaf or hard of hearing can use a relay service to call 311 at 612-673-3000. TTY users can call 612-673-2157 or 612-673-2626.
Para asistencia 612-673-2700, Yog xav tau kev pab, hu 612-673-2800, Hadii aad Caawimaad u baahantahay 612-673-3500.