Charter Commission keeps public safety charter amendment off 2020 ballot
The Charter Commission voted Aug. 5 to delay a City Council proposal to amend the City Charter through a ballot vote this year. The proposal would have asked voters in the Nov. 3 general election to establish a new Department of Community Safety & Violence Prevention.
The Charter Commission, a 15-member body appointed by the chief judge of the Hennepin County District Court, has 90 days to submit a recommendation to the City Council on the amendment language, which could then be added to the ballot for the November 2021 election.
Find more information about the proposed charter amendment here.
Voters: get your ballot in early without leaving your vehicle with drive-through ballot drop-off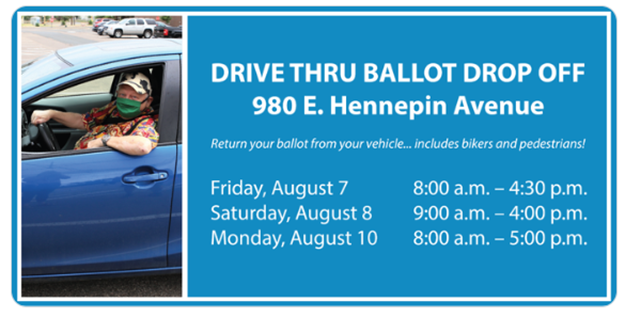 Minneapolis Elections & Voter Services will have a drive-through option at 980 E. Hennepin Ave. for voters returning their completed mail ballots. Keeping people in their vehicles or on their bikes not only makes returning ballots faster and more convenient, it also helps people maintain a good physical distance during the COVID-19 pandemic.
With less than a week before the Aug. 11 primary, the City recommends ballots not be mailed back because they may not be delivered in time to be counted. Instead, mail ballots may be dropped off at Minneapolis Elections & Voter Services, 980 East Hennepin Ave., from now until the primary. Minneapolis voters may also drop off mail ballots at the Hennepin County Government Center, 300 S. 6th St., in the skyway level of the building. (NOTE: Demonstrations of the drive-through process are available to the media today upon request. To schedule one, please contact Casper Hill, 612-432-5749.)
For the State primary, a voter's ballot will count as long as it is postmarked on or before the day of the primary (Aug. 11) and is received in the mail no later than two days after the primary (Aug. 13). This is a change from previous election law requiring mail ballots to be received by the day of the primary.
Hours for Minneapolis Elections & Voter Services 8 a.m.-4:30 p.m. Thursday and Friday; 9 a.m. to 4 p.m. Saturday, Aug. 8. and 8 a.m. to 5 p.m. Monday, Aug. 10. Voters delivering their ballots the day of the State primary, Aug. 11, must bring it to the office no later than 3 p.m. Ballots may not be dropped off at polling places on Aug. 11.
Because of the COVID-19 pandemic, the Centers for Disease Control and Prevention is encouraging voting early by mail, and Minneapolis Elections & Voter Services supports voting early by mail and other CDC and Minneapolis Department of Health recommendations to make sure every voter in Minneapolis can safely cast their ballots this election year.
What's on the ballot?
Minneapolis voters will cast ballots for the following primary races:
U.S. Senator.
United States Representative (District 5).
State Senator and State Representative (some districts).
School Board Member At Large.
School Board Member (some districts).
Voters who live in Ward 6 will also be voting in the special election to fill the vacant City Council seat. Because this municipal race is conducted using Ranked Choice Voting, there is no primary election necessary.
State law allows voters to bring materials into the polls to help complete their ballots — and the sample ballot is the single, best tool available for this purpose. By downloading and printing their sample ballots (which are customized to their specific ward and precinct), voters can practice marking their ballots. They can bring this marked-up sample ballot as a reference to the voting booth when completing their official ballots. This is the best way to reduce the time spent waiting in lines.
Find sample ballots for all 134 Minneapolis precincts here: vote.minneapolismn.gov/voters/ballot.
35W@94 Downtown to Crosstown Construction Updates
Midtown Greenway closure Aug. 11
As work continues on the new northbound I-35W bridge over the Midtown Greenway, crews are ready to pour the bridge deck. To do this safely, the Midtown Greenway will be closed from 6 a.m. to 5 p.m. on Tue, Aug. 11. The detour routes include:
Westbound bicyclists: Northbound 5th Ave. to westbound 26th St. to southbound Blaisdell Ave. to eastbound 29th St.
Eastbound bicyclists: Northbound Nicollet Ave. to eastbound 28th St. to southbound 5th Ave.
Pedestrians: Nicollet Ave., 28th St. and 5th Ave.
Lake St. gas main installation complete
CenterPoint has completed the gas main installation along Lake St. between Blaisdell Ave. and 5th Ave. The new gas main installation is part of the Lake St. reconstruction work. Reconstruction work is expected to continue through the end of the year on the eastbound lanes. Motorists should expect intermittent intersections closures as crews continue the reconstruction work. All efforts will be made to keep detours within one block of Lake St.
Westbound Interstate 94 to close Aug. 7-10
Crews continue to resurface I-94 in Minneapolis this weekend near the I-35W@94 project. Westbound I-94 will be closed between Hwy 280 and I-35W, beginning 10 p.m. Fri, Aug. 7 through 4 a.m. Mon, Aug. 10. Ramps will start to close at 8 p.m. Motorists can use the detour of northbound I-35E, to westbound Hwy 36 to southbound I-35W to westbound I-94.
Next week, I-94 in both directions will be closed between I-394 and I-35W Fri, Aug. 14 through Mon, Aug. 17.
Stay connected
For real-time travel information anywhere in Minnesota visit 511mn.org or dial 5-1-1.
Important census updates: complete your census by Sept. 30, census takers begin door knocking
Beginning on August 6, census takers began knocking on doors to interview households in select locations, including Hennepin County, who have not yet completed the 2020 Census. The majority of census offices across the country will begin follow-up work on August 11.
Households can still respond now by completing and mailing back the paper questionnaire they received, by responding online at 2020census.gov, or by phone at 844-330-2020. Households can also respond online or by phone in one of 13 languages and find assistance in many more. Those that respond in advance will not need to be visited by a census worker at their home. Everyone counts, everyone should complete the census.
What Households Can Expect
Census takers will wear face masks while conducting their work. They will follow CDC and local public health guidelines when they visit. Census takers must complete a virtual COVID-19 training on social distancing protocols and other health and safety guidance before beginning their work in neighborhoods.
Census takers are hired from local communities. All census takers speak English, and many are bilingual. If a census taker does not speak the householder's language, the household may request a return visit from a census taker who does.
If no one is home when the census taker visits, they will leave a notice of their visit with information about how to respond online, by phone or by mail.
How to Identify Census Takers
Census takers can be easily identified by a valid government ID badge with their photograph, a U.S. Department of Commerce watermark, and an expiration date on the badge. To confirm a census taker's identity, you may contact our Chicago regional census center by calling 312-579-1500.
About the 2020 Census
The U.S. Constitution mandates a census of the population every 10 years. The goal of the 2020 Census is to count everyone who lives in the United States on April 1, 2020 (Census Day). Census statistics are used to determine the number of seats each state holds in the U.S. House of Representatives and informs how billions of dollars in federal funds will be allocated by state, local and federal lawmakers annually for the next 10 years. For more information, visit 2020census.gov.
The Census Self-Response period will end one month sooner than planned
On Monday, August 3rd, the U.S. Census Bureau officially announced that the 2020 Census Self-Response period will end September 30, 2020, one month earlier than planned. We will end field data collection by September 30, 2020. Self-response options will also close on that date to begin data processing in order to meet the deadline of December 31, 2020. View the complete press release from U.S. Census Bureau Director Steven Dillingham at: www.census.gov/newsroom/press-releases/2020/delivering-complete-accurate-count.html.
There are no exceptions to anyone residing in the U.S. Everyone counts.
On Tuesday, July 21, President Donald Trump signed a memorandum claiming that undocumented migrants should not be counted in the census for purposes of deciding how many members of Congress are apportioned to each state. This is unconstitutional and has, understandably, stoked fears among these communities. Everyone counts and everyone residing in our country must complete the 2020 Census. We must remember if it wasn't so important for everyone to be counted in our censuses, then attempts to suppress a complete, accurate count would not exist.
Our State Attorney General Keith Ellison has joined a lawsuit to challenge the constitutionality of President Trump's memorandum, which can be found at: www.ag.state.mn.us/Office/Communications/2020/07/24_Census.asp.
Your census responses are confidential. Any information you provide to the U.S. Census Bureau is confidential. The bureau is not allowed to share an individual's responses with immigration enforcement agencies or law enforcement agencies.
#WeCountMpls Check the City of Minneapolis' web page for a host of info related to Census resources, online events, and a timely self-response map to know where counting is and is not happening in our city, state and nation, and more: www2.minneapolismn.gov/census/index.htm.
Community recommendations presented to help accelerate recovery and transformation
City leaders and members of the Minneapolis Forward: Community Now Coalition presented the first round of community-led recommendations to help accelerate recovery and transformation efforts in Minneapolis following the civil unrest and public response to the death of George Floyd.
See more information and watch the briefing here.
Free COVID-19 testing events coming up Aug. 11 and 15
Minneapolis is offering free COVID-19 testing events Aug. 11 and 15. All are welcomed. The tests are available to people arriving on foot or by car.
Free COVID-19 testing focused on PICA Head Start families 11 a.m.-7 p.m. Tuesday, Aug. 11 Fraser Early Childhood Center, 700 Humboldt Ave. N. Sign up here now for an appointment, or call 1-855-612-0677 if you can't sign up online or need a translator to sign up. Hmong, Somali and Spanish interpreters will be onsite.
Free COVID-19 testing focused on Latinx community members 10 a.m.-6 p.m. Saturday, Aug. 15 Incarnation-Sagrado Corazon Church, 3817 Pleasant Ave. S. Register onsite. Registration forms are available in English and Spanish. Spanish interpreters will be onsite. If you have medical insurance, please bring your insurance card.
Testing for other communities
If you are unable to attend one of these testing events, you can use this directory to find a testing location near you.
Updates from the City's Office of Immigrant and Refugee Affairs
Stricter 'public charge' rule halted, determinations revert to 1999 rules
A more restrictive "public charge" rule implemented this year has been halted by nationwide federal court injunction. No part of the new public charge rules are in effect, and U.S. Citizenship and Immigration Services has announced that as long as the July 29 injunction remains in place, it will use only previous 1999 guidance in making public charge determinations.
The public charge test is an analysis of whether a person applying for permanent resident ("green card") status is likely to become primarily dependent upon public benefits. If the answer is yes, the person's application for permanent resident status can be denied.
More information
See the U.S. Citizenship and Immigration Services notice describing its procedures in light of the injunction.
Trusted legal service providers are ready to offer free legal advice. People can call the Mid Minnesota Legal Aid hotline at 800-292-4150 with public charge questions or consult with the Immigrant Law Center of Minnesota. Their contact information is on the Office of Immigrant and Refugee Affairs webpage.
Filing fee hike coming Oct. 2 for immigration applications
U.S. Citizenship and Immigration Services (USCIS) will increase filing fees on many immigration applications and eliminate most fee waivers. This final fee rule will go into effect Oct. 2 unless halted by a federal court.
These major fee changes include increasing the cost to apply for U.S. citizenship to $1,170 and to apply for permanent residency ("green card" status) to $2,270, imposing a filing fee for the first time on asylum applications, and eliminating or reducing almost all fee waivers. These costs will create enormous barriers for immigrants and refugees trying to change or obtain immigration status for themselves and their family members.
If you are considering applying for immigration status, please take immediate steps to consult with a competent immigration attorney on filing an application before these fee hikes go into effect Oct. 2.
More information
For more information or to get help, please contact the City of Minneapolis Office of Immigrant and Refugee Affairs, or see its list of trusted nonprofit legal service providers. The list ensures that residents have access to competent immigration legal services regardless of their ability to pay.
You can contact the City's Office of Immigrant and Refugee Affairs at oira@minneapolismn.gov or 612-394-6018.
Mark your calendars for CANDO's ReImagine 38th St. events every Saturday Aug. 8 – Sept. 5 from 11 am to 5 pm
Join the Central Area Neighborhood Development Organization (CANDO) for their ReImagine 38th St. Event series.
When: Every Saturday from 11 am to 5 pm  between Aug. 8th to Sept. 5th
Where: George Floyd's Memorial – 3759 Chicago Ave, Minneapolis, MN, Minneapolis, MN 55407
More information can be found through CANDO's Facebook Event link here: https://www.facebook.com/events/3795527157142345/.
Give your input on the proposed Phelps Basketball Court Mural in person or online!
Project Backboard, Minnesota Timberwolves Coach Ryan Saunders, and Streeter Custom Builder are teaming together to propose working with a local artist to transform the current outdoor basketball court at Phelps Field Park (39th & Chicago Ave So) into a large-scale art piece honoring this community's rich heritage and vibrancy. We are partnering with Southside Boys & Girls Club and hope to complete it by summer of next year (2021).
We'd like to know what you think. Please share your thoughts by either stopping by the Phelps Basketball Court Project Booth at the upcoming ReImagine 38th St. events hosted by the Central Area Neighborhood Development Organization (CANDO) every Saturday from 11 am to 5 pm  between Aug. 8th to Sept. 5th. You can also weigh in online using this survey: www.bit.ly/PhelpsMural2020.
City seeking diversity of applicants for fall openings on boards and commissions appointments
Twenty-four City boards and commissions have openings for appointments this fall. The City seeks applicants with a diversity of backgrounds and experiences representing the demographics of Minneapolis to strengthen the work of the City. Translation and interpreting services are available so all residents can participate. The positions are open until filled; application review begins Sept. 30 unless marked otherwise.
City boards and commissions have brought forward recommendations that resulted in renter protections, wage protections and a ban on a hazardous chemical in dry cleaning. Board and commission members in the City of Minneapolis help shape key policy decisions, give community-based input into the City's administration of services and supply valuable insights.
People can apply through the open position pages linked below and stay up to date on vacancies, position descriptions and timelines by visiting minneapolismn.gov/boards/openings. Applications are open now.
These 24 City boards and commissions have 97 open positions:
Boards, commissions and advisory committees
The City of Minneapolis has more than 50 volunteer-based boards, commissions and advisory committees that advise the City on issues and help develop policy and administer services. Boards and commissions fall into a handful of categories: appeal boards, development boards, general advisory boards and special service districts (defined areas within the city with special services).
Appointments to boards and commissions are made twice a year: in the spring and fall.
Potential applicants can find more information at 612-673-2216 or OpenAppointments@minneapolismn.gov.
Save the date for the City's Seventh Annual Trans Equity Summit for Sept. 13-15
The 2020 Trans Equity Summit will be Sept. 13-15, virtual and outdoor in person, 2-4 p.m. and 7-9 p.m. daily. Programming will include breakout sessions, performances, a job and resource fair, and healing justice offerings.
This year's theme is "Claiming Our Power for Change: Caring for Community." It reflects a critical need for trans/GNC folks to embody themselves through community care, bear witness to one another without sacrifice and with joy, condition their collective emotional-spiritual excellence, and prepare to assert their power in the dramatic reshaping of Minneapolis.
The summit is free and open to the public. Watch for updates on the City website.
Everyone can work to reduce the spread of COVID-19
Wear masks when in public. 10-50% of virus carriers are asymptomatic, so they don't even know they're sick. Wearing masks helps control the virus and has been shown to lower COVID-19 spread.
Avoid enclosed spaces with groups of people, where the virus can linger in the air for long periods of time.
Get tested if you have cold or flu-like symptoms. Find testing locations.
Stay 6 feet away from others who aren't in your household.
Cover your coughs and sneezes with your elbow or sleeve, or a tissue and then throw the tissue in the trash and wash your hands afterwards.
Wash your hands often with soap and water for 20 seconds, especially after going to the bathroom or before eating. If soap and water are not readily available, use an alcohol-based hand sanitizer that contains at least 60% alcohol.
Avoid touching your face – especially your eyes, nose and mouth – with unwashed hands.
Do not go to "COVID parties" – Young adults face a real risk of significant illness and complications. They can also pass the virus along to family members and other people in the community.
Donate homemade face masks at Minneapolis fire stations for Mask Drive Mondays
Minneapolis residents can deliver homemade masks to their local fire station from 10 a.m. to 2 p.m. every Monday for Mask Drive Mondays. The City's Health Department continues to get requests from the community for help securing masks and the donations make a big difference in meeting those needs.
Statewide mask mandate in effect
Minnesotans are required to wear a face covering in indoor businesses and indoor public settings. Researchers have advocated for masking, calling it a simple and effective step to slow the spread of the COVID-19 virus.
The State regulation reinforces Mayor Jacob Frey's emergency regulation requiring people in Minneapolis to wear cloth face masks or coverings when they are in an indoor place of public accommodation.
Businesses are not required to provide masks to customers or employees themselves, though employers shall be required to mandate the use of masks by their staff. Non-compliance should be reported through 311.
Watch and share this Minnesota Department of Health video.
For information and resources on the mask mandate, including frequently asked questions, visit mn.gov/COVID19.
Central • Bryant • Bancroft • Field • Regina • Northrop • Lyndale • Kingfield
Andrea Jenkins, 350 S. Fifth St., City Hall Room 307, Minneapolis, MN 55415
For reasonable accommodations or alternative formats please call 311 at 612-673-3000.
People who are deaf or hard of hearing can use a relay service to call 311 at 612-673-3000. TTY users can call 612-673-2157 or 612-673-2626.
Para asistencia 612-673-2700, Yog xav tau kev pab, hu 612-673-2800, Hadii aad Caawimaad u baahantahay 612-673-3500.